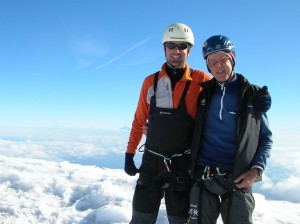 A picture: I'm just a little guy. Can't be more than 4 years old. I'm sitting in a bathtub full of water the color of gas station coffee. With me in the tub (and the source of the grime) is a friend of my dad's, a grad school buddy who had just abandoned a career as a experimental physicist and set off into the desert in search of something — god knows, whatever it is that we go looking for out there. He'd dropped by our house in the foothills above Salt Lake City for a bath and a home-cooked meal. I, apparently, thought he was a barrel of fun.
Such were the characters in my father's circle of friends. They were academics, computer programmers, and electrical engineers. They were organic farmers, photographers, and avalanche forecasters. And almost without exception, they spent a good deal of time out in the Western wilds, mountaineering, cross-country and back-country skiing, running obscene distances on rock-strewn trails.
A few of these people could have been plucked right out of an Edward Abbey novel. Take, for example, the guy my brother and I knew only as Spaghetti, who showed up at our door every five years or so, once piloting a hulking, yellow monster of a truck, riddled with rust, its roof rack laden with gas cans for long treks across the desert. Who was that guy, really? I never knew, but I was always entranced with him.
My dad's friends were (and still are) an eclectic, creative, and brainy bunch, and my father fits right in. He designed computers for many years, back when a mainframe took up an entire room. Then he spent two decades teaching the ever-evolving craft of code to students at the University of Utah. But always, he's led a second life in the mountains.
Along with a photographer friend, my father authored a book that Utah backcountry skiers – folks who spurn lift lines and instead hike into the mountains in search of untouched powder – call The Bible. It's a guide to the in-between places in the Wasatch Mountains, the places you can get to only if you're willing to sweat – and that you'll get out of only if you've got some smarts and a healthy respect for snow's ability to snuff you out.
Writing this book – and then rewriting it almost two decades later – was my father's endless excuse to explore. When my brother and I were small fries, he went with his buddies. When we hit high school, Dad brought us along for long slogs through the Wasatch powder in search of virgin slopes – hunts that just as often as not ended with harrowing, bobsled-style descents through the scrub oak that left us scratched and bloodied and completely exhausted. Such is the price of discovery: Half the time what you find is that there's good reason that no one else has been there before.
In the back country, we often traveled with my father's constellation of friends – and it wasn't until years later that I realized how much they defined my universe. They showed me that there are many ways to make a living, and the value of a life lived outdoors, measuring yourself against the mountains. These were men who felt they could get closer to the divine with the big Utah sky overhead and snow caked in their beards than they could while sitting in a church pew.
I've chosen a very different path than my father did. Where he studied math and engineering, I took up painting and writing. (Imagine my surprise when I graduated from college and found that I had zero marketable skills other that the ones I'd picked up doing carpentry and other odd jobs during my summer breaks.) But dad never pressured me to follow in his footsteps. Instead, he and his friends gave me a sense of infinite options.
As I've made my way as a writer, I've maintained a strong connection to the Western landscape and mountain culture that my father introduced me to as a kid. And as with my dad, writing gives me an endless excuse to explore.
Also like my father, I've managed to build a motley collection of friends and accomplices – men who help shape the universe for my two young daughters.
Some pictures:
My older daughter, Lucia, at 2, smeared from ear to ear with scarlet juice after a day of cherry picking with her godfather — a good friend with whom I've shared a lot of mountain time. He's a world traveler, a photojournalist by trade, and one of the finest human beings I know.
My younger daughter, Chloe, 4, sitting cross-legged on the living room rug, playing memory games with her godfather, a man who hails from a rough part of Baltimore, but with smarts, no small amount of charm – and he'll tell you a bit of luck – worked his way through a passel of higher degrees, and has become a powerful force for good in the city where he was born.
And a memory that's still very fresh in my mind: Lucia and Chloe walking in a line of kids at my brother-in-law's wedding, carrying a long chain of white flowers. A few years before, my wife and I found ourselves in a tight spot, with no daycare for Chloe. "Uncle Gregor" volunteered to idle his professional work and be our "manny" for six months. In May, he married his partner, Kent. My kids call them "the uncles," and they're an inspiration to both the kids and to me.
These are a few of the men in my constellation of friends, and who knows what wisdom, spoken and unspoken, my girls are gleaning from them. But I'm not worried. They're sharp little critters. They'll get what they need.
As for me? Like my dad, I'm not much for fatherly advice — at least not the kind they seem interested in listening to. But I'm teaching my girls how how to ski. And when they're old enough, I'll get them out to some of those secret, in-between places in the mountains, where they can learn from the snow and the silence and the big open spaces. I suspect that there's some scrub oak in their future.
**
Image: the author and his dad.
Greg Hanscom is a senior editor at Grist, where he specializes in cities, sustainable building and design, transportation, and urban culture. In his past lives, he's been editor of Urbanite magazine and High Country News. Follow him on Twitter at @ghanscom.