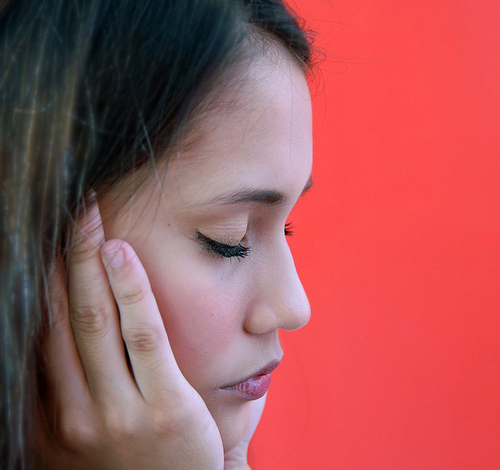 When I was in junior high, my family moved to a house in the country. The dining room table sat beneath a vent designed to allow heat to rise from the main floor into my mom's bedroom upstairs. Unfortunately the vent also served as a conduit for noise. The soft clink of metal spoons against glass bowls as my stepbrother and I ate cereal in the morning drove my mom nuts. So she instituted a new rule in the house. Thou shalt not eat your morning cereal out of glass bowls. Use the plastic ones.
This didn't seem all that peculiar to me. My mom has always had weird issues with noise. Dinnertime was the worst. Forks scraped plates, mouths slurped, teeth crunched, lips smacked even when they didn't mean to—something was always bothering my mother. I used to think she was just easily bugged.
But last week my mom forwarded me a New York Times article about a disorder called misophonia. The article begins like this: "For people with a condition that some scientists call misophonia, mealtime can be torture. The sounds of other people eating — chewing, chomping, slurping, gurgling — can send them into an instantaneous, blood-boiling rage." She added a short note: "I think I have some form of this."
According to the article, misohponia or "fear of noise" is a recently recognized condition in which small sounds like chewing or slurping cause major annoyance, even rage. The New York Times was short on specifics. No one seems to know how many people the condition affects, what causes it, or how to treat it. One neuroscientist, Aage Moller, thinks misophonia might be the result of a "'physiological abnormality' that resides in the brain structures activated by processed sound." The author hinted at a genetic component, writing, "Family links are common." She followed that statement with an anecdote about a woman with the disorder who thinks her father may have had it too. Not exactly hard evidence.
The Times article, published last September, sparked a media frenzy. Since then, the disorder has been featured on WNYC's Soundcheck (twice), the Today show, the Huffington Post, and Fox News. Misophonia even has a celebrity spokesperson. Kelly Ripa diagnosed herself with the disorder after seeing the Today segment.
Because I'm a science journalist, I plugged misophonia into PubMed to see what I could find in the published literature. Not much, it turns out. I came up with just seven hits. One article, intriguingly titled article —"Fear of the Yawning Mother"— was published and then retracted. Another article, "Hyperacusis and misophonia: the lesser-known siblings of tinnitus," appeared in a regional medical journal called Minnesota Medicine that describes itself as "a cross between a magazine and a medical journal." I wanted to see something in Science or Nature, or at least an article that seemed peer-reviewed.
It's not that I don't believe that misophonia exists. I know my mom is overly sensitive to certain sounds. And no doubt there are others out there like her. But what constitutes a disorder? How many people must exhibit symptoms before their "condition" merits a name? And who decides? Do the audiologists get together at their annual meeting and put it to a vote? I would like to think there is some system in place. I would also like to know that a diagnosis of misophonia is based on some accepted criteria. But the only vaguely quantitative thing I found online was a scale that attempts to help clinicians assess the severity of the disorder. The so-called Misophonia Activation Scale (MAS-1) appears on the Web site for Misophonia UK, a misophonia advocacy group. It was drafted by a lawyer, not a doctor.
Audiologists still disagree about what to call the disorder. According to Paula Schwartz, who appeared on WNYC's Soundcheck and also co-authored the Minnesota Medicine article, misophonia is a general term that means a fear or dislike of certain sounds. Schwartz said that the disorder we're talking about is actually a kind of misophonia called Soft Sound Sensitivity Syndrome — 4S for short — a term coined by Marsha Johnson, clinical director of the Oregon Tinnitus and Hyperacusis Treatment Center. But type "soft sound sensitivity syndrome" into PubMed and you get zero hits.
Maybe this is what bothers me: The published literature contains little to no information about misophonia and nearly all the mainstream media articles say that scant research has been done. Yet if you visit www.misophonia-provider.com, you can find a list of audiologists who will treat people with misophonia. According to the site, "while there is currently no cure for misophonia, there are very helpful management and treatment programs available and new ones emerging. Please take advantage of our providers listed on this site to find our more about what you can do." But don't you need to conduct research to figure out which treatments work? Am I missing something?
If my mom does have this disorder, it's a relatively mild form. Yes, her husband's chewing drives her crazy. And swallowing sounds make her nuts. But she manages. For her, having a diagnosis — even if it is just a self-diagnosis — has been an immense relief. Her condition has a name. "I'm not a freak," she says. "Real people have this."
***
Image courtesy of a is for äpΩL † on Flickr