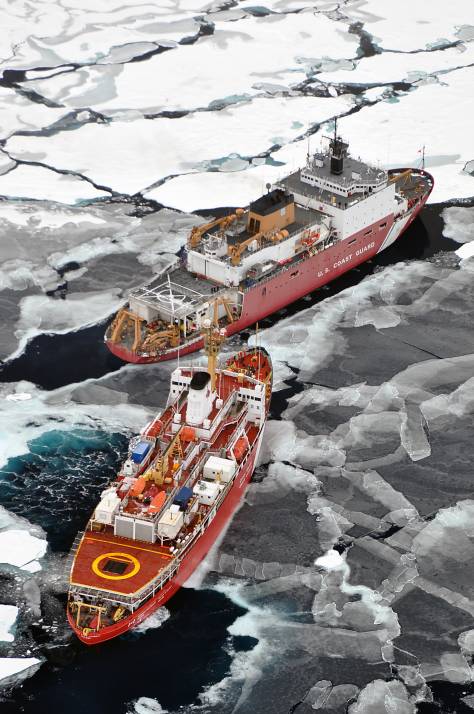 In communicating, we make decisions — judgment calls about the listener's own knowledge. It's something we develop in childhood, the "theory of mind" that allows for imagining the world from another's point of view and subsequently for meeting people where they're at. Nevertheless, in covering specialist topics, it can be tough to know what the average reader is going to understand. It's usually a safe bet to shoot slightly lower and give many of your readers a review of things they already knew before getting into subjects that rest on that basic knowledge.
Ideally there would be some kind of Encyclopedia of General Knowledge full of all the things the average adult knows. Of course this varies hugely with demographics, and the revelation of this variation has even become a form of entertainment – man-on-the-street surveys of Americans on what they know about Canada, for example.
This week, I came across the results of a public opinion survey conducted in each of the Arctic nations, but not in their Arctic populations, in particular (except in Canada, where the research originated). One graph jarred me into questioning my approach to Arctic reporting. Maybe I should be dealing with the most fundamental issues of all – why the Antarctic and the Arctic are different. Why large expanses of mostly ice are not all interchangeable. Why polar bears and penguins do not, in fact, cohabit.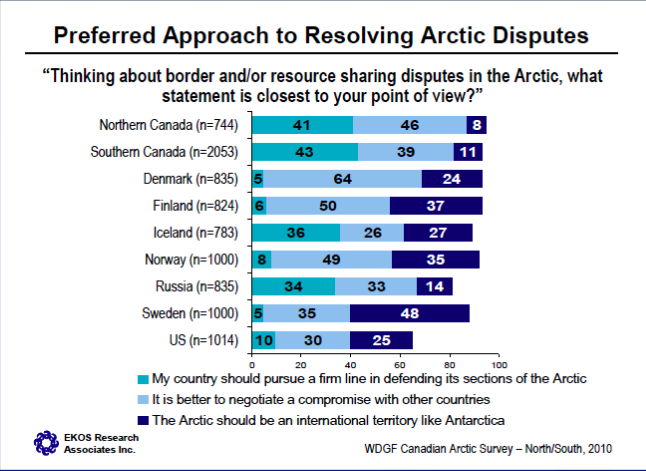 I'm looking primarily at the dark blue sections on the right, where as much as 48% of the sample, in the case of Sweden, want to see the Arctic as an international territory like Antarctica. Do they not know of the mind-bogglingly vast oil and gas reserves under the sea bed? Are they simply unaware that the Antarctic's kumbayah cooperative scenario is only possible because nobody was even using it before now?
Or maybe not – maybe this really represents informed opinion, in which case I'd advise everyone to let their governments know in the strongest possible terms that they're all on the, well, the polar opposite path from public opinion. They may also want to consult some indigenous people before signing away their land in yet another treaty.
I should temper my rant, because fully half the time, my uncertainty works the other way. I wonder whether some neat fact I just learned is already common knowledge and I'll stand to look foolish thinking it newsworthy or even needing of explanation. In this case, I want to talk about Arctic oil spills, but I suspect the recent blow-out in the gulf – and all the ensuing media coverage – has made everyone a minor expert in oil spills, in the same way they all know about tsunamis and hanging chad and the latest high-profile murder trial. Except that for whatever reason I wasn't paying all that much attention at the time.
What I did pick up was that the likelihood of such a blowout was deemed very low before it happened. In contrast, a major oil spill in the Arctic – once exploration gives way to drilling – is just a matter of time. And as it stands, there's not one thing we could do to respond. We would just have to watch in horror as the oil spread, under the ice, into the ice, emulsifying into unpumpable froth. You can't burn it off or apply dispersant and most of all, you can't get to it in time. Airstrips and ports can easily be a thousand kilometers away, and then you've got to find qualified respondents. After a small spill in the Aleutian islands, weather prevented any response at all, and there's no reason to think reaction times – the most critical factor in cleaning up spills – would be any faster in the future.
The effects on the in the Arctic Ocean, the most biologically rich body of water in the world, will be far beyond that of anything we've seen before. Colder temperatures mean fewer microbes to break down the oil, and slower evaporation. Oil trapped in ice wouldn't evaporate at all until the ice melts, which can take many years. Arctic organisms reproduce more slowly and live longer, so they would take much longer to recover from the damage.
So after all that oil spill obsession in the public domain, including an in situ TEDxOilSpill event and 24 hour TV coverage, it's quite possible most people know all this about the Arctic's future. I guess I find it dreadful enough to offer a review. Sometimes another hearing makes the difference between knowledge and realization.
Images: The Canadian Coast Guard Ship Louis S. St-Laurent makes an approach to the Coast Guard Cutter Healy in the Arctic Ocean, Sept. 5, 2009. The two ships are taking part in a multi-year, multi-agency Arctic survey that will help define the Arctic continental shelf.
Photo Credit: Patrick Kelley, U.S. Coast GuardU.S. Geological Survey Flickr Page —http://www.flickr.com/photos/usgeologicalsurvey/4370266187/
Arctic Security Public Opinion Poll: http://munkschool.utoronto.ca/files/downloads/FINAL%20Survey%20Report.pdf