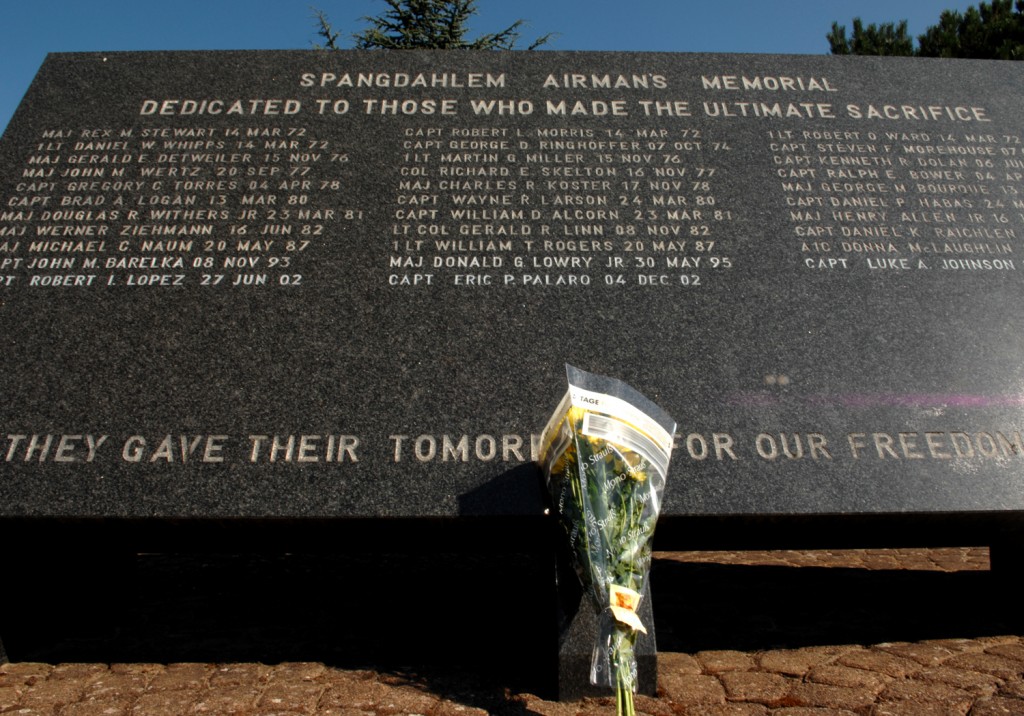 It's a blue sky day and I'm looking out on an ocean of rolling green hills. All is calm, until suddenly I hear a  jet approaching from behind. The moment I sense the plane, I know that it is going to crash. I brace myself for the inevitable. The plane is careening toward the ground. I want to stop it. I want to scream. But I have no voice. I can't move. I can only stand and watch as it smashes into the ground in front of me.
This is the nightmare that haunted my childhood. It began after my first grade classmate's father was killed in a training crash while our dads were away on TDY, the Air Force equivalent of a business trip. Major Koster never came home. From that moment on, I knew that my father would never be safe as long as he was in uniform.
First and foremost, there were the accidents, which occurred so regularly that the names of my father's fellow fighter pilots take up several lines on the memorial erected to honor Spangdahlem Air Base's fallen airmen. And then there were the bad guys —communists, mostly — who wanted to kill my father and maybe me too. Situated as we were in West Germany, the Iron Curtain loomed large. Our air base held regular exercises, so we could practice what to do in an attack. When the base was on alert, the guards at the gate to the base would greet our school bus in gas masks.
Every so often, Dad pulled Victor Alert. He couldn't change out of his flight suit, and he wasn't allowed to come home. He had to stay within a short radius of his fighter jet, the one with bombs loaded in case the red ballon went up.
I learned to brace myself.
***
On September 11, 2001, my father was an airline pilot, long retired from his Air Force career. I awoke that morning in a small town in the middle of nowhere. My husband and I were vacationing, and we'd decided to stay an extra night in our little lodge. I walked over to the office to inform the proprietor.
"Have you been watching TV?" she asked. Her face was drained of color.
"No," of course not. Who watched TV first thing in the morning?
"Go turn on your television," she said. "Some planes crashed into the World Trade Center."
"What kind of planes?" I asked.
"Airliners."
"What airline?"
"I think one was United and the other was American."
Time stopped. I told her my father was a pilot for American Airlines.
"Go to your room and call him."
I staggered back to the room and switched on the television to the same sight that people across the planet were witnessing at that exact moment. The billowing smoke. The flash of fire and dark hole in the glass. The endless replays of the jumbo jet imploding into the tower. Bodies dangling out of windows. Television commentators rendered speechless.
The hotel owner, in full crisis mode, had instructed me to call my father. But I didn't pick up the phone, not yet. If I'd been in a logical state of mind, I would have known that it was not my father's airplane. He was an MD-80 captain, and the American Airlines plane that hit the World Trade Center was a 767.
But it's emotions that rule in times like these and my emotional self took shelter by bracing. It was the pain I was used to, and I was not ready for certainty. I preferred the knowing and not knowing—my daddy is dead, my daddy is alive both equally possible.
I have heard people say that nothing prepared them for what happened that September morning. But for me, 9/11 was the kind of event I had been bracing for my whole life. It was the mass destruction I'd imagined during those air base exercises so long ago. It took an attack on American soil for my civilian friends to understand the ugly truth that had overshadowed my childhood. Even on a day as beautiful as this one, the world is not safe.

In the months that followed, people across the U.S. braced themselves for another attack. It's difficult to live like that, so it was easy to convince the populace that it was better to "fight 'em over there so we don't have to fight 'em over here." Let the military families do the bracing so the rest of us don't have to.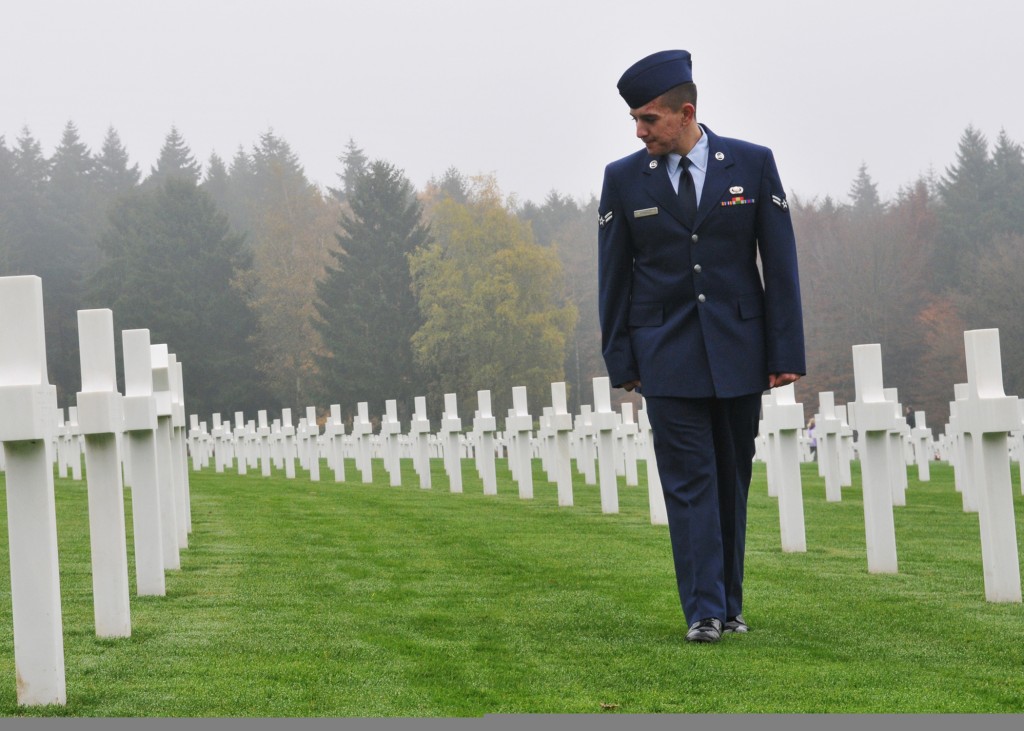 This weekend, as we remember the attacks of ten years ago, my mind is on the many soldiers and their families who have served in our names since those attacks. My thoughts are especially with the children of the deployed. I didn't need to see a study to know that they often suffer from depression, anxiety, insomnia and other stress disorders, but I'm glad that researchers are finally giving them the attention they deserve. More than 6,000 American troops have died in our post-9/11 wars. Nearly 50,000 troops remain in Iraq and more than 100,000 are still deployed in Afghanistan. That's 150,000 families silently waiting, hoping that their loved ones will return home safely, and bracing themselves for the possibility that they won't.
***
Photo credits: Spangdahlem Airman's Memorial, Spangdahlem Air Base media gallery.
New York, NY, September 12, 2002. People stop to look at the memorials near Ground Zero. Photo by Lauren Hobart/FEMA News Photo.
An Airman visits military graves at the Luxembourg-American Cemetery. Spangdahlem Air Base media gallery.