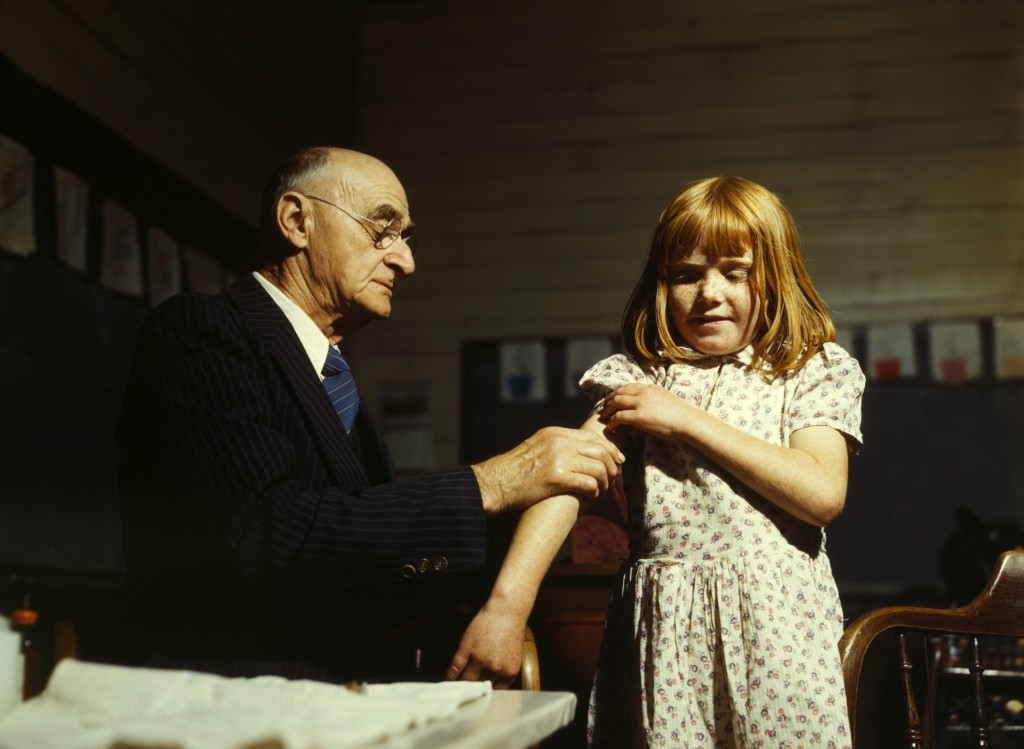 Doctors and scientists have lost yet another battle in the war over vaccines.
On 25 August, the US Institute of Medicine released a report on the "adverse events" of eight childhood vaccines. The report summarized the exhaustive evidence on the possible negative health consequences of eight vaccines recommended for children, including the vaccines that prevent measles, mumps and rubella (MMR); diphtheria, tetanus and pertussis (DTaP); chickenpox; and human papilloma virus (HPV).
That's right: in the midst of the most heated anti-vaccine campaign in history, a committee of the nation's leading scientists and doctors decided to produce a detailed, graphic summary of all the health problems that vaccines cause.
The report encapsulates so many of the mistakes that scientists make when trying to communicate with the public  – mistakes that have created a societal climate that embraces "vaccine skepticism" as an acceptable mark of well-informed parenting.
Never mind that the report found that most vaccines are very safe; that they rarely cause serious health problems; that these most serious problems usually affect children who have pre-existing immune system defects; and that the MMR vaccine does not cause autism or diabetes.
Those findings aren't going to convince anyone who was already a vaccine skeptic (such as some Facebook readers who commented on my Nature News story about the report.) But sadly, the report missed a crucial opportunity to arm parents who are "on the fence" with much-needed facts to combat the mistrust and bad information about vaccines that is undermining public health in America today.
The report includes hundreds of pages filled with nerve-wracking case reports about individual children who suffered grave injuries and even death after vaccination. But there is nothing in the report to help a parent put these difficult cases into context – no similar anecdotes of the horrendous, preventable suffering that can be averted by vaccines. Nor does the report provide any estimate of how rare these events really are. The report merely notes that "the committee was not tasked with assessing the benefits (effectiveness) of vaccines." (Emphasis in the original report.)
Further, the language of the report is nearly nonsensical. The committee decided that in some cases, "[e]vidence convincingly supports a causal relationship" between the vaccine and a particular adverse event, while for others, the committee said, "[e]vidence favors acceptance of a causal relationship." These phrases have no meaning in science, let alone in real life. Those parents who actually take the time to look at this report – admittedly, few probably will – will probably come away from it more rather than less confused.
These missteps are typical of mistakes that scientists often make in communicating with the public. Few researchers are eager to jump into controversial debates, arguing that the subject matter is outside their area of expertise. And when called to step somewhat outside their comfort zone, they too often erect a wall of impenetrable jargon between themselves and the public.
Most sadly, scientists often prefer to focus narrowly on whatever task is at hand rather than thinking about how non-scientists will view their work. I do understand that this report needed to focus on vaccine adverse events because it was requested by the US Health and Human Services Department's Vaccine Injury Compensation Program, which pays people who suffer certain health problems linked to vaccines. The program was looking for guidance on what sorts of vaccine injuries it should cover; thus, it didn't ask the committee to compare risks and benefits of vaccines.
But only someone who is completely out of touch with today's society would fail to realize that such a report needed to be thought out and presented much more carefully than it was to avoid fueling the anti-vaccine panic that is raging across the country. Vaccine-preventable diseases are re-emerging, children are dying, parents cannot go a week without hearing other parents casually assailing the safety of vaccines at the playground or on the Internet, and families are pressuring new parents not to vaccinate their babies.
The Institute of Medicine committee gathered 16 eminent doctors and public health specialists who truly care about protecting the nation's children against vaccine-preventable diseases. Didn't any of them realize that it probably wasn't a good idea to release a report that focuses so myopically on the drawbacks of vaccines in today's increasingly anti-vaccine climate?
Apparently not. And that is why we are losing the vaccine war.
***
Photo: A typhoid innoculation at a rural school in Texas; April 1943, by John Vachon for the U.S. Farm Security Administration, via Wikimedia Commons.