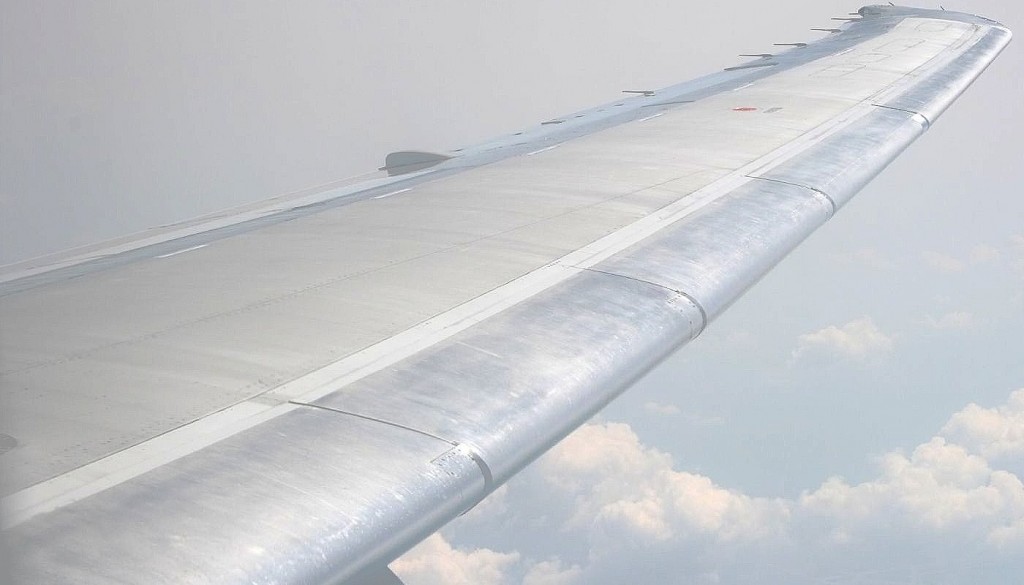 I asked my husband, who's a physicist and a pilot, how airplanes stay up in the air.  A question like that makes him happy.  "It's the wings," he said,  "They provide lift."  "What's lift?" I said.  "It's Bernoulli," he said. "The faster air moves, the lower its pressure. "  I'm used to these answers that are at a tangent to my questions and I usually get lost in them.  "What's faster air and lower pressure got to do with wings?" I said.  He loves where this is going and talks louder.  "Wings are airfoils," he said.  "They're fatter at the leading edge and thin at the trailing edge.  Air hits the airfoil and splits – think of it as streamlines.  The streamlines that go up over the top of the wing speed up, and that lowers the pressure above the wing.  The streamlines that go down under the wing go relatively slower, and that raises the pressure under the wing.  So the wing is effectively pushed up.  That's lift."
Ok, good, fine:  faster air = lower pressure above, slower air = high pressure below, so then lift.   "Is a wing moving through air always lifted?" I said.  "No," he said.  "It depends on the angle of attack."  I'm also used to these infinitely receding explanations and I usually get lost in them too.  "What's the angle of attack?"  I said.  "Just the angle that the wing is at," he said, and went on to remind me about driving in a car with my hand out the window and when my hand is tilted with respect to the oncoming wind, it gets lifted up.  Ok, good fine:  "so a wing angled for attack always has lift?"  I said.  "Not just lift," he said.  "Also drag.  The act of creating lift also creates drag.  It's lift and drag."
Also life and death, and order and entropy, I thought, so I asked, "could drag ever win?"  "Oh yes," he said, and digressed off into notable airplane crashes.  I stopped listening.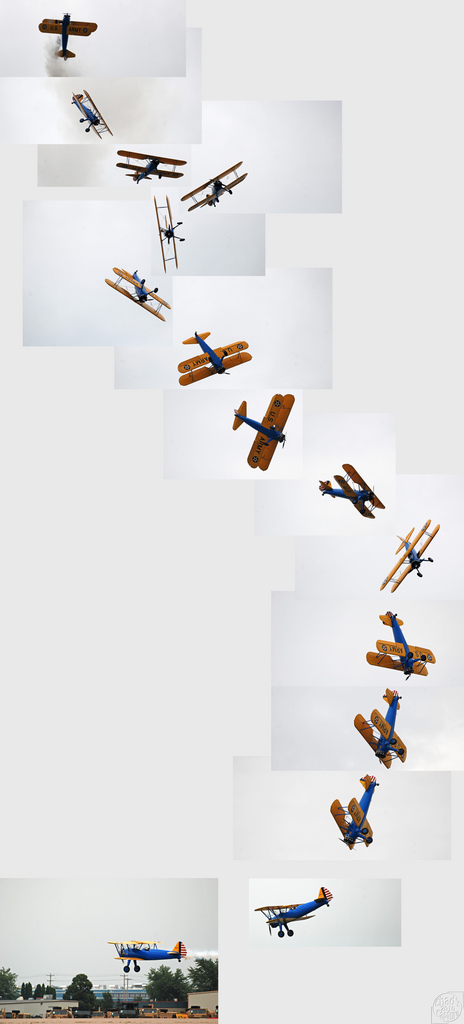 This is what happens. The streamlines going over the top not only speed up, they stop being streamlined, that is, they make little eddies, they get turbulent.  That creates drag.  "How do you stop that?" I said.  "Lower the angle of attack," he said, "and the streamlines over the top go even faster relative to the streamlines below, so it's Bernoulli again.  More lift," and he digressed into the niceties of take-offs.  "But lowering the angle of attack has got to stop lifting at some point?"  I said.  "Yes, it's a balance – too low and not enough lift; too high and more turbulence and more drag," he said, "and then you stall."  "Stall?"  "The lift drops, the drag rises, the airplane starts sinking, then goes nose down."  "Oh no," I said.  "And the only way to recover it is to lower the nose still farther until you're going so fast the lift picks up again and then you raise the angle of attack."  "Oh God," I said.  "But if you stall too close to the ground," he said, and I interrupted him just as he was about to tell me about nosing in.  "But spins are worse," he said, and I stopped listening again.
I'm already leaving out all the parts about friction and laminar flows and about how Bernoulli is just one description but another one is Newton and conservation laws and circulation around the wing, and I don't know what all. "And birds?" I said.  "No, no," he said, getting all torqued up, "birds are MUCH more complicated, birds can change the shape of their wings, bird have individual muscles for each feather and move their feathers individually," and he put his arms out and zoomed around the room, waggling his fingers and shouting about flaps and elevators.  Sometimes my nerves aren't quite strong enough for physics.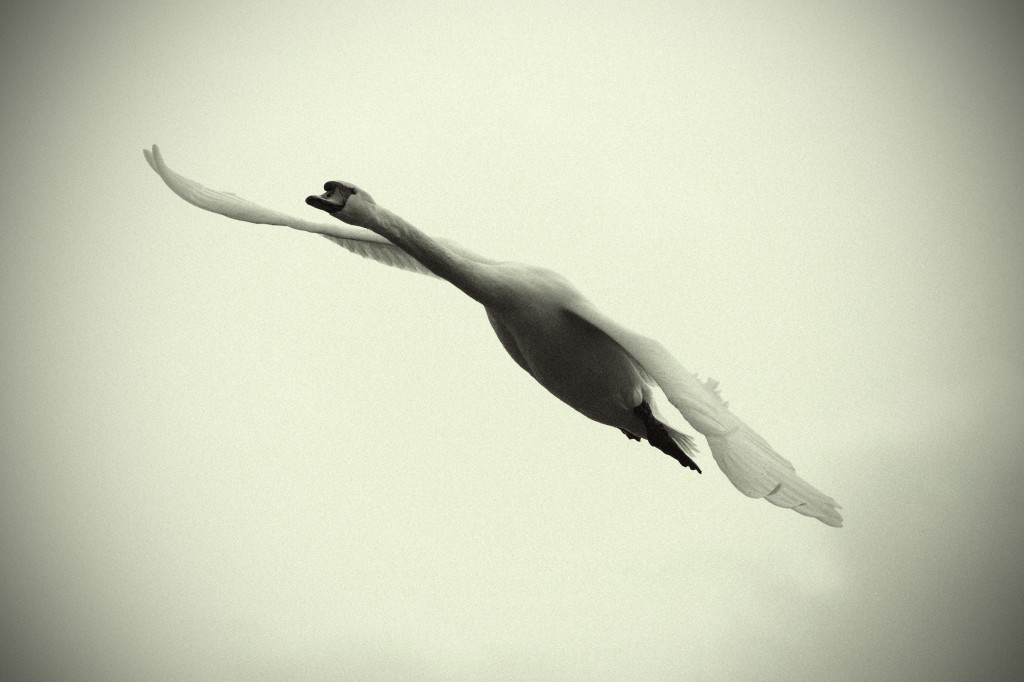 My husband and a gentler physicist, Princeton's Will Happer, went to school together.  Happer liked his first meetings with physicist/pilots:   "They knew from the seat of their pants about lift and drag.  I liked to go stand by the coffee and just listen to them talk.  I'd never known how you calculate lift and drag, and there's a beautiful law about the lift of a wing that says the lift is proportional to the circulation of the fluid around the wing times the velocity of the wing.  And you know, it's like a sonnet almost, it's so pretty. It's the most fundamental conservation laws of physics, when a fluid accelerates and goes faster, its pressure goes down, the famous Bernoulli effect."
Happer went on to explain how those fundamental laws operate even when the wing stalls.   "I learned that when a wing stalls, it's not like when your car stalls—it means that the wing stops lifting and the plane falls to the ground."  But Happer isn't a pilot so to him, stalling was just part of lift; it was just physics and he loves physics.  "I learned things that were simple and beautiful and calculable," he said, "these simple ideas that made something that was so complicated and seemingly intractable and inscrutable, suddenly crystal clear and self-evident."
You can't make lift without making drag.  Stalling follows laws.  And so the danger of a crash — that seemed unpredictable, intractable, inscrutable — becomes crystal clear and self-evident.  For some reason that's a comfort.
_________
If you noticed the similarities of drag, velocities, and differing, calculable fates between this post and Richard's yesterday, you wouldn't be entirely wrong.
Photo credits:  wing – MNicoleM; recovery from spin not too close to the ground – Chad Horwedel; swan – kennysarmy