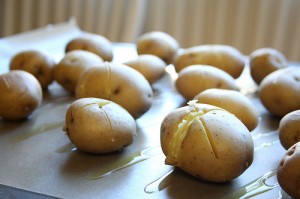 I am totally in love with potatoes. I'm getting married in two weeks, so I guess I love my fiancé more, but potatoes are a close second.
Bolivians love potatoes too. They buy them by the sackful. Bolivia has the distinction of being home to both the best potato and the worst. The best is called a papa rellena, which means "stuffed potato." To make a papa rellena, you start with two globs of mashed potato. Take the globs and shape them into cups. Fill one half with beef and onions or a hard-boiled egg or some cheese – whatever you have on hand. Then fit the other cup on top so that you have a tennis ball-sized object. Then you fry the whole thing in oil.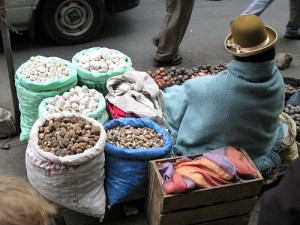 To make the worst potato — chuño — travel to the frigid and barren altiplano. Take a normal potato and lay it on the ground in the sun. Leave it there for several days until its soul has evaporated. You will have a shriveled porous thing that resembles a bleached shrunken head. Now rehydrate and serve. On second thought, just chuck it in the wastebasket.
Because I am such a potato fiend, my ears perked up when the discussion turned to potatoes last week at a conference I was attending in New Hampshire. Over lunch, Dr. X, a physician and expert in disease prevention, began talking about how potatoes get such a bad rap. And it's true! So I told a story about how my fiancé (who smokes and drinks lots of Coke and barely exercises) once turned down hash browns at a diner because he has "a history of diabetes in his family." So then Dr. X told a story about another scientist,
Dr. Famous. Apparently Dr. Famous was at a conference talking about the evils of potatoes. And some journalist raised his hand and asked, "What about baked potatoes? Certainly they can't be that bad for you." According to Dr. X, Dr. Famous yelped this one word response: "Poison!"
Really, Dr. Famous? Poison? That seems absurd. If potatoes were poison, I'd be dead. And so would everyone in Bolivia. And so would this guy.
I scoured the literature (ok, ok. I lazily Googled the literature) looking for proof of the potato's toxicity. I didn't find any evidence that potatoes are poison, but I did stumble across a new study (by Dr. Famous, among others) that linked potatoes to weight gain. Here is what the media had to say about this study:
L.A. Times: "Public Enemy No. 1 in America's battle of the bulge isn't cupcakes, soda or double bacon cheeseburgers. It's the simple potato, according to Harvard University researchers."
Baltimore Sun: "Feeling fat? Blame all those potatoes . . . Almost anyone engaged in the battle of the bulging midsection knows that French fries are not their friends. But the real shocker in the study of long-term weight gain that came out of Harvard this week was that eating too many spuds of any kind — even plain old baked potatoes — could make you heavier."
Bloomberg: "Putting aside a 1-ounce bag of potato chips each day in favor of yogurt can save almost a pound of weight gain every four years, according to a Harvard University analysis of the dietary habits of 120,000 Americans."
So potatoes make you to pack on the pounds, right? Um, not so fast. The conference I attended last week was all about how to critically evaluate medical research. So I decided to use my new skills to assess the potato study.
First of all, the study was not a true experiment. The researchers didn't randomly assign participants to a potato-eating group and a non-potato-eating group. Instead, they simply observed 120,000 female nurses and male health professionals over a period of a couple of decades.  Every four years they asked the participants about their diet. This study examined the relationship between changes in diet and changes in weight.
These types of studies—called observational studies—can only show associations. Yes, the people who increased their consumption of potatoes gained weight — 1.3 pounds every four years, on average. But this study doesn't prove that eating potatoes caused the weight gain. Lots of other factors could explain the correlation. Perhaps people who ate more potatoes also exercised less. Instead of going for a jog, they planted their butts on the couch in front of the TV with a bag of potato chips. So should we blame the chips or the TV or the couch?
The problem is called confounding. Researchers can use fancy statistics to reduce confounding. Eliminating it entirely is nearly impossible, however. So we have to interpret the results cautiously.
The study doesn't offer enough proof to convince me to stop eating potatoes. Nor would I recommend you stop eating them. And I certainly wouldn't call potatoes "Public Enemy No. 1 in America's battle of the bulge." Potatoes are poison??? Not likely, Dr. Famous.
******
Image credits: potatoes on a tray courtesy of digiyesica, chuño courtesy of Claudius Prößer, potatoes in sacks courtesy of Cassandra Willyard