Kids will put anything in their mouths. My aunt, who lived briefly in Hawaii, once found my cousin gnawing on a dead lizard. My childhood tastes were less exotic. I loved dirt.
Eating dirt was forbidden. I was old enough to understand that. But I could. not. help. myself. My mother would often find me next to a houseplant, black streaks covering my mouth and hands. "Have you been eating dirt?" she would ask. I would solemnly shake my head. The perfect crime. Except for that telltale black ring around my mouth.
For me, eating dirt was a phase. I grew out of it. But years later I still felt like a freak. I shouldn't have. Turns out dirt eating is pretty common. In fact, there's even a scientific name for the practice: geophagy.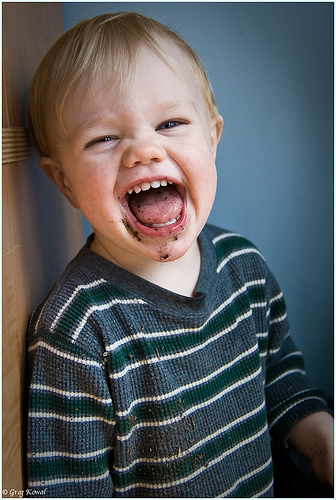 Why this compulsion to ingest soil? That question has puzzled scientists for decades. When my mom took me to the doctor, he told her I had a mineral deficiency, a position supported by at least some studies. (I later ate an entire bottle of Flintstones vitamins, an incident which required another trip to the doctor and perhaps provides more evidence that I was lacking important nutrients).
But certainly other explanations exist. One hypothesis suggests that people eat dirt to fill their bellies and quell hunger. However, a new study in the June issue of the Quarterly Review of Biology finds that geophagy may have more to do with parasites than hunger or nutrition. The researchers, led by Cornell's Sera Young, sifted through old accounts of missionaries, plantation doctors, explorers and anthropologists looking for reports of geophagy. They entered the 482 examples they found into a database. Then they used this database to see which explanation best fit the data.
If hunger were the explanation, one might expect that geophagy would be far more common when food is scarce. But the researchers found that people eat dirt even when food is abundant. The mineral deficiency explanation didn't seem to be a good fit either. The soils that people ingested were not rich in nutrients. What's more, previous studies have shown that people  continue to eat dirt even after they begin taking nutritional supplements. And at least one study found that eating soil can reduce absorption of nutrients.
One explanation, however, did seem to fit: People eat dirt to protect themselves from toxins, pathogens, and parasites. The researchers found that most of the examples involved pregnant women and children — the people most vulnerable to infectious diseases. They also saw that geophagy occurred most often in warm, tropical climates — places where infectious diseases thrive.
How might this protection work? "This clay can either bind to harmful things, like microbes, pathogens and viruses, that we are eating or can make a barrier, like a mud mask for our gut," Young told LiveScience.
I have a hard time believing that my geophagy was driven by some innate need to self-medicate. For starters, I wasn't picky about my dirt. My preference was for a nice dark loam, but in a pinch I would eat just about anything, including sand from the sandbox . . . the very same sandbox that all the neighborhood cats used (not for building sand castles). And that seems like a really good way to pick up parasites, not protect yourself from them.
Adorable photos courtesy of BC Bear.