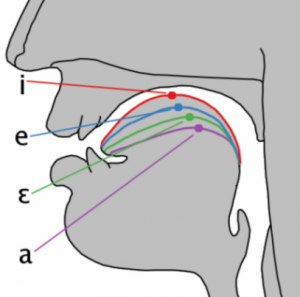 Before I left for England, a surprising number of people pulled me aside for a frank talk about The Accent. You know the one. It's that slightly off, trans-Atlantic dialect acquired by expats; the one whose distracting inauthenticity annoys you during otherwise decent period dramas. Fortunately for me, I was never in any real danger: I didn't even speak English until I was eight, when I traded my native German for a Long Island-flavored New York accent, atop which I later shellacked a coat of Baltimore. The resulting mashup can withstand anything the Brits can throw at it.
But no one warned me about the phrases. Oh, their tempting little expressions! Chuffed! (Excited.) Gutted! (Very sad.) Naff! (Gross. [sigh, wrong. See correction]) And then there's my personal downfall: "can't be arsed." God, I love that phrase. "Can't be bothered" purports to mean the same thing, but it's nowhere near as evocative. But when I attempted to slip it unnoticed into conversation last time I was back in the States, I got a very stern talking-to by our own Cassandra Willyard. "Sally, no," she told me in plainspoken Midwestern. "No."
I never said it again, but I couldn't let it go. Why couldn't I say "can't be arsed"? When a Brit delivers the phrase, those three little words are transformed into gleaming pearls of wit. But in my mouth, that "r" is like hitting a ten-foot pothole in a clown car. I tried Americanising it by converting "arsed" to "assed," but then you wonder what I can't be "asked" to do, and what geographical circumstance led me to leave out the "k." There's no solution. I simply can't say "can't be arsed."
Having mastered three accents before age 20, I refused to believe that my trouble was as simple as a regional accent. Then I remembered hearing about phonemes. These are the smallest linguistic units that constitute a language: the "kuh" in can't, the "buh" in be, the "ahhrrr" in arsed, the "sh" in Shh!
English has about 40 phonemes, but other languages vary widely. Rotokas, which is spoken in Papua New Guinea, has only 11 phonemes. At the other end of the spectrum is Khmer, spoken in Cambodia, which has hundreds. There's a difference between learning a language and speaking it properly though. Speaking it accent free depends on the ability to properly move your lips, tongue and jaw to articulate them. The phonemes you physically can and can't say supposedly "set" after the age of 11. I slipped in right under the deadline to avoid a German accent, allowing me to articulate the "th" phoneme that so notoriously trips up ze Germans.
So was the culprit that weird "ahhr" in "arsed"? Was that a phoneme or a dialect? I consulted Gennaro Chierchia, a linguist at Harvard. Nope, it wasn't phonemes: "Phonetic differences are not used to distinguish words in English," he said. Back to square one.
What was causing the difference? I dug deeper. That "aahr" wasn't just in "arsed." Observe what happens to the common phrase "blah blah" when you apply a coat of British.
Like all apparently off-the-cuff Britishisms, execution of this phrase is incredibly complex. I've managed to work out the recipe, but you must follow the directions to a tee or—not unlike "can't be arsed"—this thing will blow up in your face like a meth lab.
1) Infuse everything with 8 gallons of your most Brrrritish accent.
2) Say the two words according to the following quantites: 3 parts aloof, 1 part bemused, 1 part impassive. Your tone should indicate that you're so bored that your life is in danger.
3) Don't forget a soupcon of self-deprecating amusement. You must end the second "blah" with a faint whisper of a smile that looks almost like it could transition into a snort, a way of acknowledging the in-joke between you and the listener. Was there an in-joke? There was now.
4) Add a head-shake so subtle that might be a vestigial shrug. Be careful to mete this out in homeopathic quantities.
If you like, you can leave off the second blah. A true Jedi master of Britishness can leave off the first one as well.
Call them phonemes or accents, those differences are what make British people sound smarter than us, no matter what they're actually saying. Don't believe me? Listen to this reading of Jersey Shore by persons with British accents. With an infusion of English, Jersey Shore dialogue is suddenly full of charming double entendre, though I assure you not one of those cast members is capable of even a single entendre.
I was truly gutted: To say the delicious phrases without sounding like a jerk, I would have to adopt the obnoxious accent. Which would make me sound like a jerk.
But there might be another way. Earlier this year, Washington University neuroscientist Eric Leuthardt figured out how to listen in on phonemes before a person actually articulates them, while they're still rattling around in the preparatory language areas of the brain. (By the way, put away your tinfoil hat, because to do that, volunteers' skulls had to be opened to allow a  blanket of electrodes to be placed onto their exposed brains. Not exactly covert surveillance.)
Leuthardt is pursuing this research to help people trapped inside their own minds after a stroke or other traumatic brain injury. If you could pick up the brain's phoneme signals, you could string those phonemes together into speech, giving someone with locked-in syndrome the chance to communicate normally (instead of the tortured eyeblinks Jean-Dominique Bauby was limited to while he wrote The Diving Bell and the Butterfly).
But for my purposes, I will highlight the much more frivolous implications: the benefits to Americans.
At some point, I hope Leuthardt's phoneme-sipping technology will advance enough to give us all telepathic benefits without the invasive, skull-cracking drawbacks. At that point, I foresee an Android app that finally lets me convert English to American so I can impartially assess the quality of what is being said. We'll see how blinded I am by the English wit and gravitas when I hear one telling me he can't be "assed."
---
image credit: Wikimedia Commons/ Ishwar
Turns out "naff" actually means uncool (thanks, Clare!). I was thinking of a different word that means gross: mingen. Return to post