Like many other journalists, I've been following the reports this week about Julian Assange, editor-in-chief at Wikileaks. I like whistleblowers and others who shed light on dark places, and I hoped that Assange would find some way of slipping through the fingers of all those Interpol inspectors. Of course it wasn't to be. As of last report, British authorities are holding Assange in a segregration cell in Wandsworth Prison in South London, the Victorian-era penitentiary that once housed Oscar Wilde.
I wish there were more such whistle-blowers out there, particularly in a field that I know fairly well: archaeology. As I have discovered, intelligence agencies have a particular penchant for recruiting archaeologists as spooks.  And if you think about it,  this makes good sense. Archaeologists spend a lot of time in foreign countries. They learn the local customs, speak the local language, and often work  in remote parts of the countryside. It's not unusual for them to wander around bridges, military installations and other sensitive places with cameras and notebooks in hand.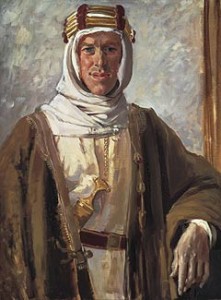 That's pretty much what T.E. Lawrence–better known today as Lawrence of Arabia–did in Syria shortly before the First World War. The young Oxford graduate signed on to a crew of British archaeologists who were excavating an important site known as  Carchemish. To all appearances,  Lawrence was little more than a keen student of the past. But he was working for a British intelligence agency, maintaining surveillance on a German railroad line under construction from Berlin to Baghdad.
Recently to my great delight, I discovered that anthropology–a kind of omnibus field which includes archaeology — does indeed have its own version of Julian Assange. David Price teaches at St. Martin's College in Lacey, Washington and is now working on a book on anthropological spooks. Prices's research shows that the American Anthropological Association secretly collaborated with the CIA in the early 1950s,  providing the agency with a detailed cross-listed index of all the association's members, including their geographical and linguistic areas of expertise.
Price has spent the last decade searching through archival documents and filing Freedom of Information Act requests to see how many of these anthropologists actually worked for the CIA during the Cold War. When I talked to him recently, Price told me that he had found "well over 60,000 pages on anthropologists who worked for military intelligence agencies."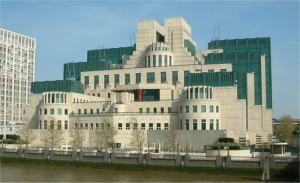 Just how many researchers are currently working for two masters in the field today is anyone's guess. But it's a very different discipline today than it was during the Cold War. Anthropologists now operate under clear ethical guidelines: these prohibit taking part in intelligence gathering. Moreover very few anthropologists would succumb to a patriotic appeal from the CIA or MI6,  and most would be  loathe to imperil the lives of their colleagues in the field, by giving anthropology a dark name.
I am keenly anticipating the publication of David Price's book. It will be a fascinating read.
Upper Photo:  Julian Assange in Copenhagen, November 2009.  Courtesy New Media Days.
Middle Photo: Painting of T.E. Lawrence  by Augustus John, 1919.
Lower Photo:  MI6 Building in London.  Courtesy Tagishsimo0n